My favorite Country on Earth!
I may be Ireland's #1 fan 🙂 Anyone who knows me can attest.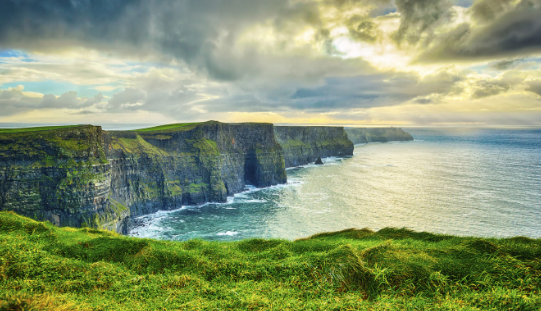 My first visit was May 2001 with my husband. As soon as we stepped off the place, I felt like I had finally come home.
Northern Ireland was still divided from the South and we were unable to travel to Northern Ireland. It was before the M-6 was finished. We rented a car, a pre-paid coupon book for hotels, and a map in hand. My God, what a fantastic adventure!
Best trip. Ever.
Even though I lost every picture I took (I had saved them to my hard drive and then it crashed),
We stayed overnight in Dublin and left to explore the next day. With our trusty printed map, we made our way toward Rock of Cashel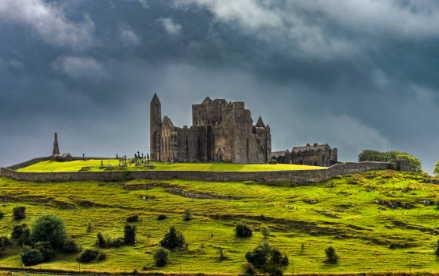 The Cliffs of Moher did not have a visitor center, a fence, a cost, and only a small white sign pointing the way. In fact, we drove by it.. had to turn around, to go back and look for it.
While I do not recall our exact route, I do remember iconic Dromoland Castle… our pre-paid coupons worked here with a $100 upgrade surcharge. Yes, please! Looking at the prices each time we've gone back, we can never afford to stay again! lol 🙁
We had to park our rental car in the lower lot, and as we walked up, we passed a Ferrari parked out front as a helicopter landed on the lawn and the passengers were escorted off. Sigh… the high life! Our suite of rooms had an entrance hall, a living area with a fireplace, and double doors that opened to the master bedroom with a private patio, and a bathroom ensuite. We were forced to have dinner here as it was so late in the evening, and my husband had to borrow a dinner jacket – but holy cow, it was amazing. We still talk about how good the beef consomme was and the waiters (seemingly ghosts) took care of us. I say ghosties because they whisked and flitted about coming out of the woodwork to capture a wayward crumb or water refill. Later when we went back to our room a complimentary bottle of wine in a bucket of ice with small desserts was waiting. I"m waiting for an invitation back to I can experience an updated review!
We made it all the way over to Galway where we walked around for a bit & stayed at the farthest most western Castle Hotel, Abbeyglen in Clifden.
We were greeted by the proprietors who were imbibing with a few of the locals in the onsite pub. The rooms were great, and the food was also good. But the place smelled dank.. old (of course it was, but still).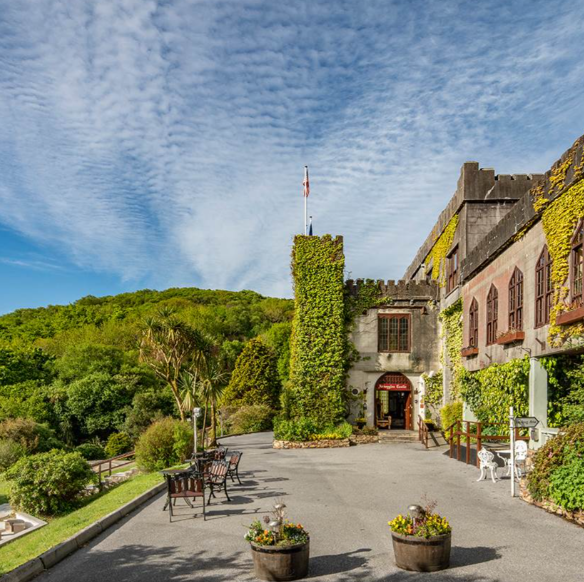 On our way from Clifden back to Dublin we tried to visit the Irish Stud Farm, but it was closed. In our wanderings, we came across another horse facility and stopped to ask the gate guard if a tour was possible. He advised the Sheikh was not at home, but he called the main house and secured a private tour for us! Woot! Woot! After a short wait at the main house, an SUV pulled up and drove us around, the manager showed us the practice ring, the birthing facility, the stables, and the private cottages where the Skeikh's entourage of 30 people stayed. We were even given a catalog of available studs with fees (still have it).

OUr final days in Dublin were spent wandering the city.. the Ha'penny Bridge, Trinity College, St Patrick's Cathedral, and of course the Guinness factory!
We went again to march in the St Patrick's Day parade in 2013 and in late November 2015… it's been 8 yrs now, definitely time to go back!