Tuscan Chicken
Inspired by a recent trip to the Tuscan countryside, this simple dish is a regular on our dinner table.
Yields 4 servings
Ingredients: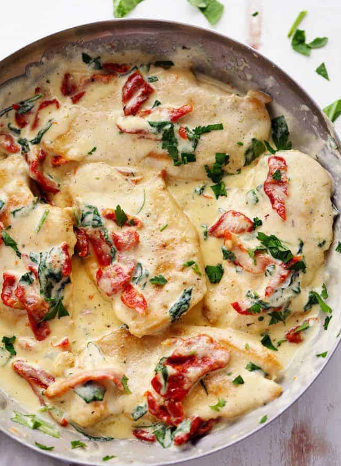 1 Tbsp EVOO
4 boneless, skinless chicken breasts
Kosher salt & fresh ground black pepper
1 tsp oregano
6 Tbsp butter
1 Tbsp (heaping) minced garlic
1 1/2 c halved cherry tomatoes
3 C baby spinach (no need to chop)
1 C heavy cream
1/2 C grated parmesan
Heat oil in a large skillet over medium heat. Add chicken, and season with salt, pepper, and oregano (add more/less of any of these items to your preferred taste). Cook chicken until done, approximately 8 minutes per side, then remove from skillet & set aside.
Using the same skillet, melt the butter, then add garlic to cook until fragrant. Add cherry tomatoes, and season with salt & pepper. Cook until cherry tomatoes are beginning to burst and then add spinach until wilted.
Stir in cream and parmesan, and bring to a simmer. Reduce heat to low, and simmer for approximately 3 minutes, then re-introduce chicken and cook til heated through (5-7 minutes).
Serve with your favorite noodles (or rice) and lemon wedges.
GUINNESS STEW
it's a comfy, cozy, warm bowl of deliciousness, both a classic & a favorite. I will say, that I also mash some side potatoes and spread them in the bowl, like a pie shell before adding the stew (don't skip this part!).
Ingredients
3 tbsp. extra-virgin olive oil, divided
2 lb. beef chuck stew meat, cubed into 1″ pieces
Kosher salt
Freshly ground black pepper
1 yellow onion, chopped
2 medium carrots, peeled and cut into rounds
2 stalks celery, chopped
3 cloves garlic, minced
3 medium russet potatoes, peeled and cut into large chunks
4 c. low-sodium beef broth
1 (16-oz.) bottle Guinness
2 tsp. fresh thyme
Freshly chopped parsley, for serving
Directions
Step 1: In a large Dutch oven over medium heat, heat 2 tablespoons oil. Season beef with salt and pepper, then add to pot and cook on all sides until seared, 10 minutes, working in batches if necessary. Transfer beef to a plate. 
Step 2; In the same pot, add the remaining 1 tablespoon oil and cook onion, carrots, and celery until soft, 5 minutes. Season with salt and pepper. Add garlic and cook until fragrant, about 1 minute.
Step 3: Add beef back to Dutch oven, then add potatoes, broth, beer, and thyme, then scrape the bottom of the pot to release the fond (browned bits at the bottom). Bring to a boil, then immediately reduce heat to a simmer. Season with salt and pepper. Cover and let simmer until beef and potatoes are tender, 30 minutes.
Step 4: Spread your "side" mashed potatoes in the bowl, then add the stew. serve with chunky garlic bread.